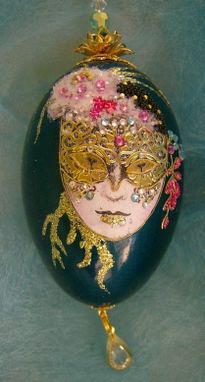 This beautiful Goose egg is the perfect way to include New Year's Eve into your Holiday decorations. The first of a series, each egg is individually created and no 2 will ever be the same.

This goose egg is painted a deep, rich green and hardened to a glossy shine. The design was added after the egg was painted, and then decorated and highlighted to make it pop. Swarovski crystals sparkle over the mask and micro beads highlight the design. Metal findings and crystals were used to create the top, and a crystal drop hangs from the base.

Signed and dated.

This egg basic design is also available in other sizes. (Rhea and Ostridge) Please contact me for more information

Special note - While this egg was created by me, it is a Geri Meyers inspired design. Thanks so much Geri!!