Master Bedroom Chandelier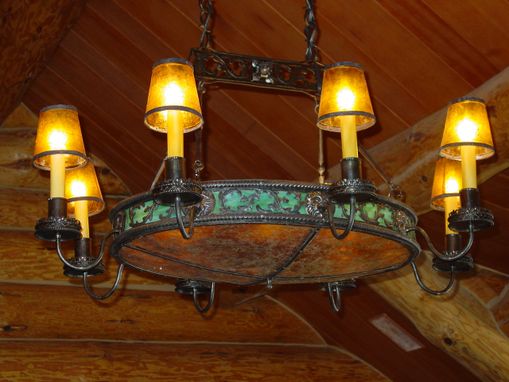 This chandelier has it all except for the dangling crystals. Wood in ceilings and a log interior absorb light like a black hole. The client wanted more light in his bedroom but didn't want to be faced with a lot of glaring lights. This fixture with its mica shades, slumped glass side panels and hand forged iron frame work became the answer. The arms or sconces with their mia shades and the mica lens in the main body provide a warm glowing light while a series of lamps in the center flood the ceiling with light to brighten the room as a whole. In the the design of the ironwork I was able to indulge in my love of gothic pierced and repousse detailing.
Dimensions: 30" long by 24" wide by 18 " high
All of our products are handmade
by expert makers.