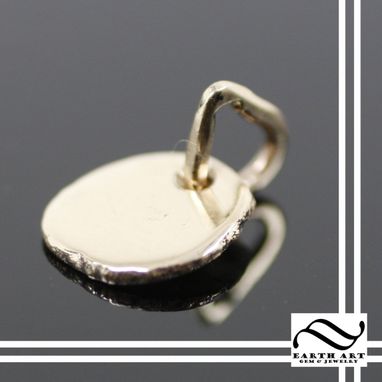 This project is pretty simple:
Lets say you have an old ring, or earrings, bracelet etc... that you don't wear, but has sentimental value to you.

You send me the piece of jewelry and I will melt it down by hand. When this type of melt down is done, precious metal like sterling silver and gold ball up into little droplets.

Once cooled, I will hand forge the ball of metal into a flat disc. The flattening process makes each piece unique as they slowly become flat and the edges wrinkle and the overall shape distorts.

I like to leave the edges raw and preserve the shape as much as possible as a reminder of where the piece came from.

In the pictured example, I was given a dainty gold ring, which provided enough metal for a roughly 10mm x 12mm disc. I supplied some gold wire to create the small soldered shut loop.

If your charm is large enough, we can also either stamp or engrave something into the front and/or back.Such as a date, name or initials.

If you have a very large piece, like a cuff or bracelet, I could break it up into even pieces and create multiple charms, which makes a great set of gifts for many family members!

FINE PRINT:
The metal must be either sterling silver, fine silver or karat gold.
Cost is based on the size of the charm, the number of charms we make, the metal type, and if stamping or engraving are requested. Please keep in mind that a small charm can only hold a few letters or numbers.
All of our products are handmade
by expert makers.