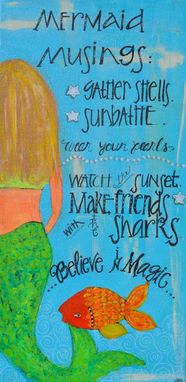 We just love mermaids - and fish. This little 'list' of mermaid musings is perfect for a little girls room , a pool house or the beach house.

We can adjust the musings to a long list of mermaid appropriate inspiration. The mermaid can have whatever color hair, skin color or fish tail that you desire! Background color can be blue or green - in most tones.

If you prefer a personalized version with a name - just let us know.

This painting is usually 12 x 36 but can be larger or smaller as your need.