Coffee Table :: Contemporary Metal And Glass Rectangle - Eclectic Sculptural Furniture, Accent Tables For Living Room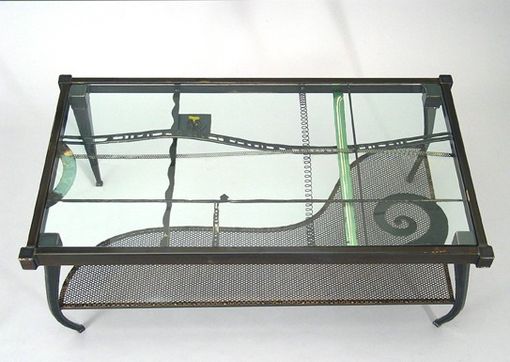 This table is no shrinking violet. Handsomely constructed from heavy gauge steel and embellished with found objects, this contemporary, eclectic coffee table features a curvaceous lower shelf. Glass top rests inside frame. Steel, found objects, naturally-acquired rust patina, hand-brushed Penetrol oil finish.

COLLECTION
Private Art Collection.

CERTIFICATION OF AUTHENTICITY
Each work of art is personally signed by Lisa Fedon.

FABRICATION PROCESS
I start out by hand-cutting individual pieces from heavy steel plate, tubing, flat bar, wire cloth, wire mesh, or whatever metal stock material I need for fabrication according to the design. Then I grind the rough edges, assemble the pieces together using my tig welder and incorporate other design elements, like found objects or other cut shapes of metal. The fabricated table is then cleaned with salt & vinegar to start the metal oxidation process, and then placed outside exposed to the elements to develop its unique, naturally-acquired rust patina. After several days of oxidation, I wash and clean the piece with water, let it dry, and then hand-brush two coats of Penetrol - a metal sealing oil that dries hard to a rich glossy finish. I finish the process by adding any other embellishments, if necessary.

NOTEWORTHY
Each piece has its own rust patina character so no two items will be exactly alike.