Metal Grommets Add-On For 40-50"W Panels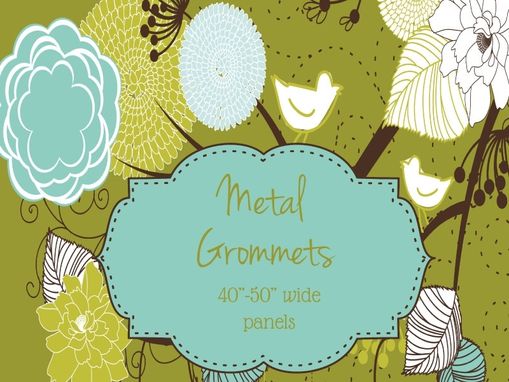 Add-on Metal Grommets for 40"-50" wide panels with an inside diameter of 1 9/16".

Most commonly available grommets are plastic, which can fade and crack in the sun. These metal grommets are durable and will not change in color or rust. There are currently six finishes available; please specify your preference in the "notes" section during checkout.

Available Finishes:
Black
Polished Silver
Frost Silver
Matte Nickel
Antique Brass
Antique Copper

If you are purchasing a pair of custom curtains and would like a header with metal grommets, please add this item to your cart. Applicable for 40"-50" wide curtains. Purchase one for each pair of curtains. There will be 8 grommets per panel for a total of 16 grommets per pair of curtains.
_______________________________________________________________

Please remember that, in measuring the final length of your curtains, the inches taken up by the grommets need to be accounted for. This measurement also involves taking the circumference of your rod into account. Please send me a convo if you need help getting the correct measurements. You should measure from the bottom edge of your rod.