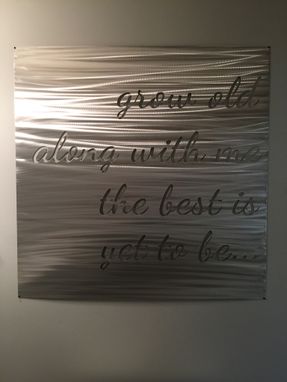 Our metal quote signs can be customized with a quote of your choice. Standard size are 16" X 16" and can be ordered up to 48" X 48". Contact us today for a quote
All of our products are handmade
by expert makers.
Kathi D.'s review

• Sep 26th 2019

I am very happy with my piece. Ryan was very easy to work with and made exactly what I wanted in a very timely manner. And, at a great price.Thank you, Ryan!

Kristi G.'s review

• Jun 16th 2019

When I first placed my custom metal sign order, Ryan was prompt with an email asking more detailed questions about my inquiry. Throughout the ordering process communication was professional and easy. The turnaround was very quick from the time of ordering until I received the product. I was pleasantly surprised as this was a custom size wall sign with a custom quote. The sign shipped across multiple states and was received in impeccable condition due to very diligent packing. It is even better in person than what I saw in the pictures!

Nick S.'s review

• Apr 13th 2019

Ryan was very giving of his time. He was quick to respond to messages during our collaboration of our project and he let our vision come true. Thank you for our beautiful piece of work.

Stefanie V.'s review

• Feb 6th 2019

The experience with Cascade Metal Design was amazing. Ryan helped me get my purchase quickly. I really didn't know what to expect but I was very pleased with my purchase. I will be using Ryan again and highly recommend CascadecMetalnDesign.

Zac S.'s review

• Jan 2nd 2019

Overall I got exactly what I paid for. Price was very competitive and the quality is unmatched. I had been looking for awhile to have a signed made for my anniversary and Ryan did an amazing job. If I need any future projects I know where to go.