Meteorite And Zirconium And Gold Band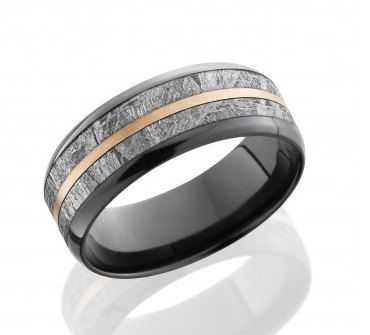 Zirconium 8mm beveled band with 5mm meteorite inlay and 1mm 14KR center

*FREE ENGRAVING
Size: All sizes available! (please inquire)
Width : All widths available! (please inquire)

* Customize this band. We can add diamond or gemstones. Please inquire.
* Lifetime Warranty
* Free Ring Box and Bag
* Appraisal of Authenticity
Shipping is FREE .
Made in Salt Lake City, UT
All of our products are handmade
by expert makers.
leigh m.'s review

• Feb 7th 2019

I asked them to make my wedding band with a wood inlay. They said they could do it no problem. I received my ring and within 1 week the wood inlay came lose. I sent it back and 1 month later I got my ring back. It lasted 1 month and the wood came out again. I sent it back for a 2nd time and a 6 weeks later I get my ring back. It has now been 1 year and the wood inlay has come out again. I paid $1000 for a wedding band that was supposed to last for my lifetime and it hasn't even lasted 1 year. And now they will not respond to my emails. They make sure to take care in the start when you can cancel or get your money back but 1 year later they don't give a shit. Buyer beware.

I WOULD NOT RECOMMEND THIS COMPANY TO ANYONE.