Military Challenge Coin Display,Military Coin Holder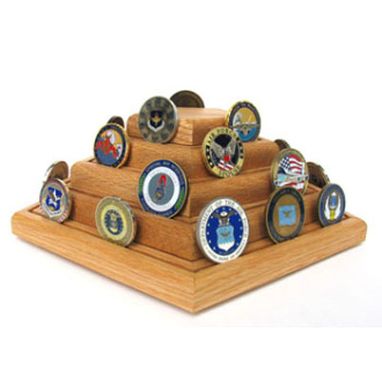 Military challenge coins deserve to be preserved and not forgotten about – this coin cabinet is an ideal and beautiful way to display these mementos of honorable service in a piece of furniture. This Pyramid coin display is an ideal way to showcase your pride in your unit or country. Three grooved rows on four sides of a pyramid display made from the finest solid oak makes this coin display rack great for a desk, mantel, coffee table or show off it and the coins beauty on a pedestal. A great gift for a coin collector or military veteran. Made in the USA, this wooden display rack can hold approximately 60 coins (depending on challenge coin size) and can rotate fully (similarly to a lazy Susan) so all angles of the coins can be enjoyed with a gentle push. And at 12" (height) x 12" (width) x 4 1/4" it's a great centerpiece or accent to any room of the home or office.
All of our products are handmade
by expert makers.