Military Challenge Coins - Pyramid Coin Display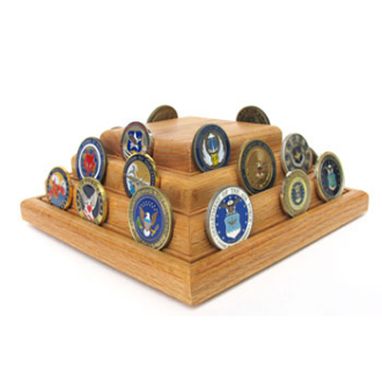 Military challenge coins are beautiful mementos of service and should be displayed with dignity in the home or office. They inspire confidence in achievement and build morale in a unit, small symbols of great pride and should not be tucked away in a drawer gathering dust. This Pyramid coin display is an ideal way to showcase your pride in your unit or country. Three grooved rows on four sides of a pyramid display made from the finest solid oak makes this coin display rack great for a desk, mantel, coffee table or show off it and the coins beauty on a pedestal. A great gift for a veteran or coin collector. Made in the USA, this wooden display rack can hold approximately 50 coins (depending on challenge coin size) and can rotate fully (similarly to a lazy Susan) so all angles of the coins can be enjoyed with a gentle push. And at 9" (height) x 9" (width) x 3 3/8" it's a great centerpiece or accent to any room of the home or office.
All of our products are handmade
by expert makers.