Miniature Raku Urn Turquoise Blue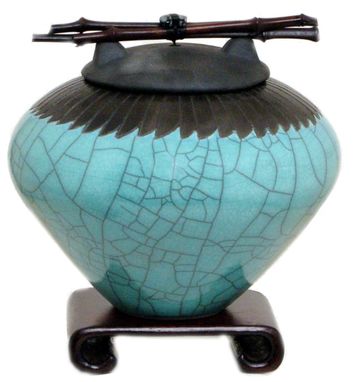 RAKU URN
7.5 W "X 7 T" 115 cubic inches in volume

The miniature raku urn makes a good gift item or accent piece, this size will fit into any homes decor. The raku urns were inspired by the many fine examples of primitive ritual and ceremonial ceramics from around the world. This design has evolved over the last 20 years with an eye to blend the esthetics of the East and West, while indulging in neither.
Raku urns come in seven sizes and over a dozen colors.
Raku lids are adorned with black bamboo and Zuni inspired gem stone bear fetish.
The Raku Fetish pots simple design fits into a wide range of decors from traditional to ultra contemporary.
Vibrant colors contrast or complement your existing color theme. All raku colors are mutable to harmonize with their surroundings. Strong simple shapes and random raku crazing are pleasing to the eye and calming to the spirit.
Our hope is that these pieces will bring joy to your hart and harmony to your life.