Mochila Arhuaco / Leather Crossbody Bag In A Traditional Colombian Style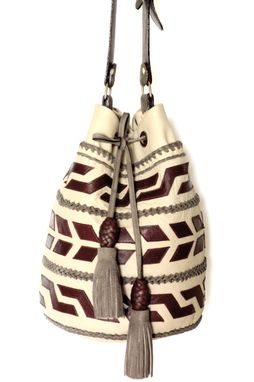 la MOCHILA (mo-chee-la): a crossbody bag woven by tribal women in the colombian mountains.

this bag draws its inspiration from the traditional mochila typical to the WAYUU tribe.

/ constructed in leather
/ entirely hand stitched
/ cross-body style
/ adjustable shoulder strap
/ drawstring closure
/ solid brass hardware
/ tassel detail
/ braided leather detail
/ inside zippered pocket
/ cotton linen lining

shown in ecru with brown trim

also available in:

black with natural trim
natural with black trim

dimensions: 15in / 14in / 5.5in


the artist is a self-taught leather crafter from a small town in the valle de cauca, colombia who continues to be inspired by the styles native to her country while adding a modern aesthetic.

custom crafted and meticulously cut, dyed, punched and sewn by hand in the artist's home studio using the finest leathers for a piece that will last a lifetime. each bag is a work of art and is made to order with unique details to create a one of a kind piece.