Modern Cabinet Refacing Project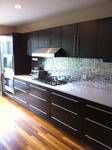 We originaly installed this kitchen but the house was sold to a new owner. The new owner was informed of this and contacted us when they moved into the home. The new owner loved the cabinets but did not like the Grey Cabinets the old homeowner had installed. The client opted to reface the kitchen with a nice modern look.
Dimensions: Approximately 15' by 15'.