Mom And Baby Dainty Sterling Tags With Diamonds Set In 14kt Gold Necklace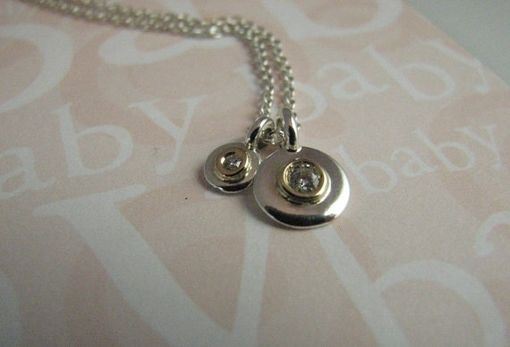 Customers really like this necklace! So light and comfortable you can wear it everyday, even when you are wearing other jewelry. Mom gets the larger diamond (.06-.08 ct), set in 14kt on an 8mm sterling silver circle. Your babies get the sweet smaller diamonds (.03-.04 ct) also set in 14kt gold on a 5mm sterling circle and nestle around mom's larger circle. Sterling silver chain included.

You can also choose from multi-colored diamonds and precious/semi-precious gemstones. (Amethyst, black onyx. emerald, garnet, hematite, iolite, jade, peridot, ruby, sapphire (all colors), topaz (all colors) Sterling silver 16" chain included.

Please contact me for pricing if you are interested in stones other than diamonds.