Personalized Monogram Cuff Links In 14k Gold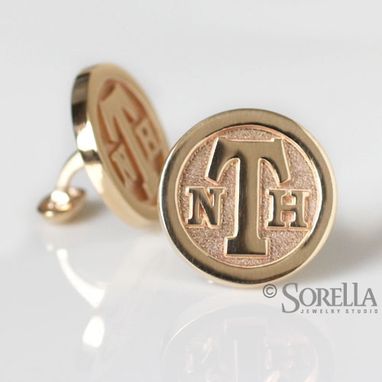 Lynn and I are suckers for men wearing cuff links so we love creating them.

These are wonderfully classic monogram cuff links in solid 14k gold. A wonderful gift for the man in your life.

We work in platinum, palladium, 10k, 14k, and 18k gold (yellow, white and rose) and sterling silver.
Dimensions: Diameter: 20mm
All of our products are handmade
by expert makers.
Brittany F.'s review

• Sep 5th 2017

I ordered monogrammed cuff links for my husband in sterling silver. I could not have been happier with the final outcome! The monogramming on the front, as well as the special engraved messages I requested on the back were done perfectly.

bernadette c.'s review

• May 3rd 2017

It was a pleasure working with these wonderful ladies designing and making cufflinks for my son's upcoming 30th birthday. The finished product was beyond my expectations. I look forward to having another set of cufflinks designed and made for my younger son for Christmas . You are the best and thank you. Your work is first-class.
Bernadette

Jody G.'s review

• Apr 12th 2016

I am so impressed with the finished product. The cufflinks are beautiful and a really nice weight. Thank you so much!

J. S.'s review

• Aug 24th 2014

Sorella made 5 pairs of custom cufflinks for me bearing a family crest or seal. I ordered white gold, rose gold, and silver. The result was better than i expected; the design came out crisp and clear, and the finished product was beautiful. My only quibble is that Sorrella's 14k rose gold alloy has more red in it than most rose gold alloys, and so i wished i accounted for that -- but i don't consider this Sorrella's fault in any way. The sterling silver cufflinks and white gold cufflinks came out beautiful.
Sorrella was terrific about letting me know the status of the project, and the sign off process for the CAD images was easy.
I highly recommend Sorella and will use them again.