Three Letter Monogrammed Key Fob Key Chain Zipper Pull In Solid Bronze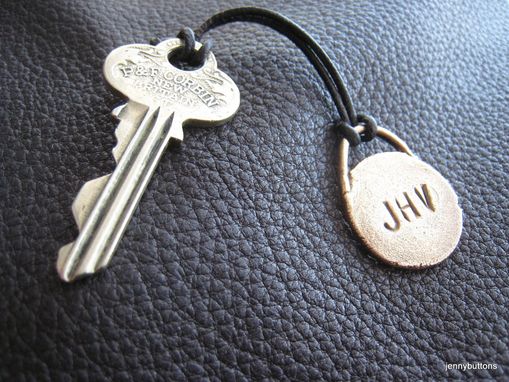 *********HELLO MY DEAR BUTTONNEERS! I WILL BE GONE FOR A FEW WEEKS AND MY DELIVERY TIMETABLE WILL BE PUSHED OUT. I will be closed from mid May to the end of June for some travel and family business. If you have an item that you need before mid May, please order by April 21st. I will still be communicating with customers and taking orders while I am closed down, but anything ordered after April 21st will ship Mid July or later. Thank you for your understanding! Jenny********


A lovely bronze fob with a three letter monogram, this little piece has a host of uses:

key fob
zipper pull
purse fob/charm
backpack ID

Key chain or Fob from Solid Bronze approximately 7/8" in diameter, with leather cord.

You need a gift. You want it to be a nice gift, but you do not want to spend a mortal fortune, as they say.

This keychain or zipper pull is custom made for you or your lucky giftee, with a three small initials imprinted in solid bronze. A small lanyard of greek leather cord is attached, to hold a key or two, to grace a handbag, or to act as a handy zipper pull for a backpack. It is smooth and weighty in your hand, one of life's little luxuries.

Think of it! A stocking stuffer that is suitable for everyone from your 10 year old nephew, your best friend Betty, and your great grandma Irene. Done, done, and done.

Send me those initials!!

p.s. you are certainly allowed to get one for yourself. It still fits the category of 'gift' because you are special and deserve it! :D

About 7/8" (2.1 cm) in diameter, and weighs about as much as three pennies.
Please allow two to three weeks for fabrication.

PLEASE NOTE IF YOU LIVE IN TEXAS: THE CUSTOM-MADE QUICK ORDER FEATURE DOES NOT ALLOW FOR SALES TAX. IF YOU LIVE IN TEXAS WE WILL NEED TO AMEND THE PROPOSAL TO ADD 8.75% TX SALES TAX BEFORE PROCEEDING. THANK YOU!
All of our products are handmade
by expert makers.