Moorish Star Sterling Key Chain Monogrammed With Sterling Split Ring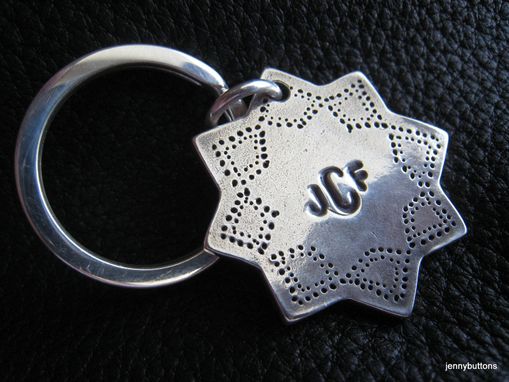 *********HELLO MY DEAR BUTTONNEERS! I WILL BE GONE FOR A FEW WEEKS AND MY DELIVERY TIMETABLE WILL BE PUSHED OUT. I will be closed from mid May to the end of June for some travel and family business. If you have an item that you need before mid May, please order by April 21st. I will still be communicating with customers and taking orders while I am closed down, but anything ordered after April 21st will ship Mid July or later. Thank you for your understanding! Jenny********


Solid Sterling Silver Monogrammed Keychain 1 3/8" (3.5 cm) Fob with Solid Sterling Silver Key Ring

Beauty is nice, but beauty PLUS durability is better. This lovely key chain is made in the shape of a beautiful Moorish star, with an intricate hand picked border. It is a good sized hunk of solid sterling silver, as the fob alone weighs about as much as three nickels. . (Check out the thickness in the fourth picture.) You could carry it in your pocket for years, and it will only get more burnished and lovely with wear.

Available only with larger center initial, due to design of the fob.

Monogram example: Miriam Salada Vesey = m V s

AND PLEASE GIVE ME THE ENTIRE NAME TOO, AS A DOUBLE CHECK AGAINST THE INITIAL'S ORDER. This has helped me to catch more than one transposition of letters before it's turned to stone, so to speak ; )

Marked on the back with ".925" and my 'JB" logo. I CAN ALSO ADD A DATE ON THE BACK IN THE SAME SMALL LETTERS IF YOU WISH.

Please allow two to three weeks for fabrication.

PLEASE NOTE IF YOU LIVE IN TEXAS: THE CUSTOM-MADE QUICK ORDER FEATURE DOES NOT ALLOW FOR SALES TAX. IF YOU LIVE IN TEXAS WE WILL NEED TO AMEND THE PROPOSAL TO ADD 8.75% TX SALES TAX BEFORE PROCEEDING. THANK YOU!
All of our products are handmade
by expert makers.