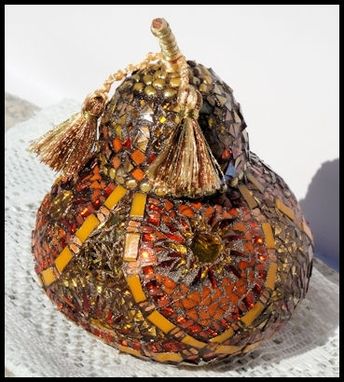 From stem to base this beauty is doing the Morocco Rock. This is a real home grown gourd that was hung to dry. The outer skin was scraped off for good adhesion of the glass to the gourd. It has a unique design with Van Gogh glass and mirror glass used to make the suns that are in each panel of the design. The top circular design is made with fresh water pearls. The stem is hand wrapped with satin thread and the tassels are handmade as well.
This would look so right in any home decor and if given as a gift it would definitely bring delight to the person it was given to.

Let me design and mosaic a gourd for you.

Dimensions: width - 4 1/4 inches at the widest part, height - 4 1/2 inches

Materials: fresh water pearls, glass tile, porcelain tile, Van Gogh glass, mirror glass, black gold grout.