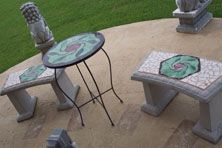 This photo shows a mosaic patio set that consists of a table and 2 benches.

This is just an idea of the type of mosaic work that you can have on your own patio. You provide me with a picture, size, and colors that you would like.

Dimensions: Patio table is approximately 36" H by 24" W. Benches are approximately 18" H by 30" W.