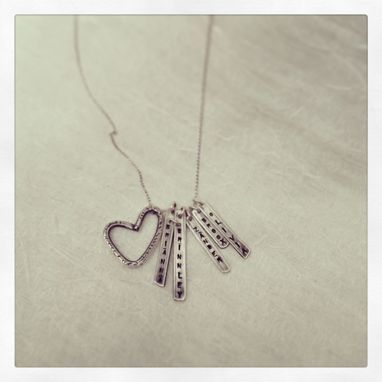 It may be obvious to some the meaning of this piece. Each tag has a child's name on it to remind the mother of the love she shares with her children. the stylized heart is a symbol of that love.
This piece was a gift of Christmas from a man to his wife. A message to her that their collective love for their children is priceless. He sent along a picture of something similar for our vision to unite. Each piece was fabricated from Sterling Silver, hand stamped and then blackened to make the letters pop, with a silver jump ring attaching them to the chain. You may notice that 2 of the tags are bound together...this signifies a grandchild. The stylized heart was hand fabricated and then hammered to give it a textured/organic look. This piece is a great example of how a client and a maker can take an idea and make it reality. I cherish this process with my clients and don't feel any piece is truly done without our collective vision.
All of our products are handmade
by expert makers.
Jeff W.'s review

• May 5th 2015

all went great. super fast turnaround. exactly as promised.