Multi-Use Computer Cabinet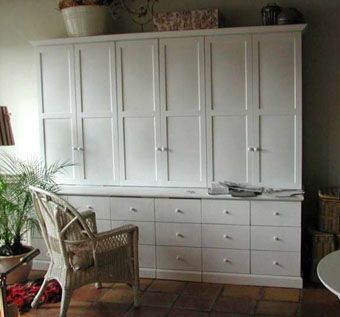 Materials: Poplar, Birch PW, White Laminate
Finish: White Enamel

This piece occupies one end of a large, bright living room, and needed to harmonize with the rooms simple and light detailing. The flat panels, rhythmic surface and clean white finish underplay its' size and mask its' function as a well-organized and multi-functional computer cabinet. The center drawer fronts are actually pocket doors which slide out of the way to reveal a kneehole under a slide-out keyboard tray. Other drawer fronts are doubled up to form extra-large drawers for files, scanner, and printer. Behind the middle upper doors is the monitor space, with shelving and slide-out low-voltage task lighting. And of course there is generous storage space throughout.