Mun Ebony Ultra Cigar Pen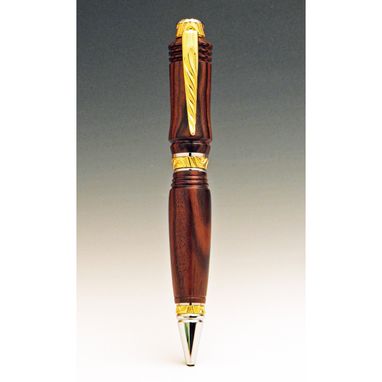 The Ultra Cigar pen is a two-tone more ornate version of the Cigar pen. The pen functions the same as the Cigar pen. It takes a Parker® of Visconti® Gel or ball point refill. Each pen comes in a gift box with product information.
The process I use in making the wood pens is first I drill out a solid wood blank and glue in a brass barrel. I then place the barrels on a wood lathe and hand turn each pen. I sprayed every pen with multiple coats of lacquer. Lastly, I assemble the pen parts to complete the pen.
For this one the main body is Mun ebony from SE Asia and the pen is finished in gold on chrome plate.

Dimensions: 3/4" diameter by 5 3/4" Long