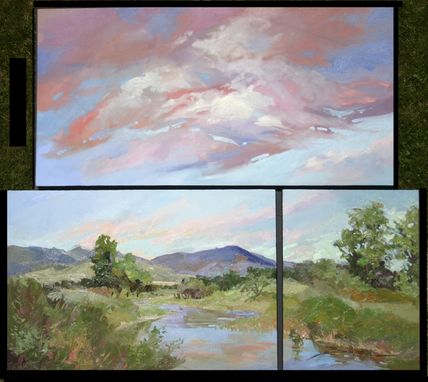 Any size requirement for a mural...for indoor display only.

THE FIRST IMAGE, of the mountains, and the tree line along the bottom, is 6 feet by 16 feet, and was created for Mount San Antonio College in Walnut California. The mountains were painted on the spot (from a 2nd story parking structure, the trees created from b/w photographs I took, driving all over southern California, and the clouds were created from 16 different plein air paintings I had done, in order to do another commissioned mural back in 1990.

The largest custom made to date: one creation 10 feet high, by 6 feet wide, for an industrial building, to be displayed on the landing of the steel stairs going up to the second floor
Another for a college in Southern California, Mount San Antonio College of Walnut...that was 6 feet by 16 feet, of their name sake, in the San Bernadino Mountains.

Murals of any size, can be created in my studio, and shipped to your location, due to the manner in which i create them. All panels are in 24" widths, and can be added to, as needed. The reason for doing them on separate units, instead of your walls, so that they can be moved, should you move, or the building it is displayed in, is demolished...thus saving the mural!
Also, if created in my studio, shipping becomes a very easy situation!!