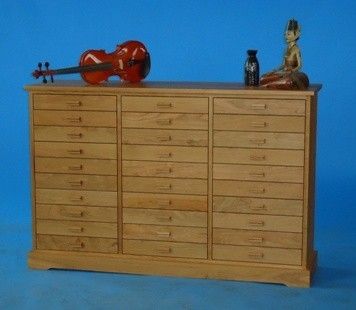 This sheet music cabinet has 30 open-sided sheet music drawers offering maximum capacity and organizational flexibility.

Pictured here in cherry, with drawer pulls in a "Japanese Modern" design… essentially a thin wafer of walnut sandwiched between 2 pieces of cherry, cut into an inverted trapezoid shape.

The cabinet sports a solid hardwood cabinet case, top, and drawer facings. The cabinet stands about 35" high, is approximately 15" deep, and the top surface is close to 54" wide. This design calls for no mechanical hardware, so there is nothing to become mal-adjusted, loose, or to rattle over the years

Dressing up all cabinet surfaces is a traditionally applied hand-rubbed oil finish, which accentuates the organic beauty of the wood.

Dimensions: The cabinet stands about 35" high, is approximately 15" deep, and the top surface is close to 54" wide