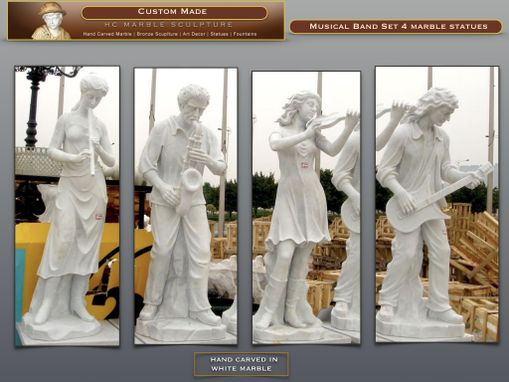 Each Statue plays a different instrument, a Flute * Saxophone * Fiddle and a Guitar. You can almost imagine you can hear them playing music. The statues are so real looking. Each statue is Life Size and standing on a base

Hand Carved in White Marble

* Add white or colored lights to give the display the effect of playing in a club. This set of marble statues would make an unbelievable fantastic display for the right room, lobby or garden.

Dimensions: in inches
Statue: 71"H
Separate Base: 24"H
Total Height: 95" High

NOTE
* You can order with or with-out 24" H additional base - less $400 ea.
* You can purchase the Set of 4 pieces
* Or purchase 1 or 2 of the individual statues per statue @ $2,500 ea.

Request a quote for your choice of style.