My Sun And Stars, Moon Of My Life Hand Stamped Keychain Pair In Aluminum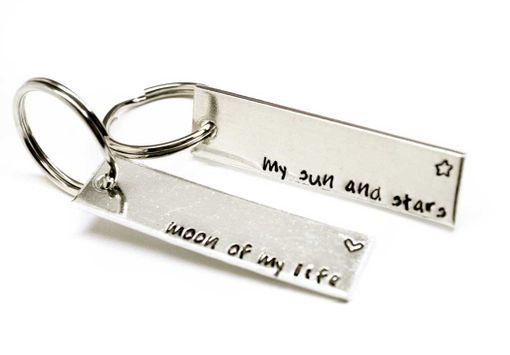 The perfect gift for a Khaleesi and her Khal, these beautiful hand-stamped Dothraki-inspired keychains are the perfect way to bond you and your partner while you rule the Seven Kingdoms! Bearing the words "My Sun and Stars" and "Moon of My Life", these are the perfect accessories for any Game of Thrones power couple!

Stamped on hypoallergenic aluminum in my Bridgette font, these key chains are 2" x 1/2", polished to perfection, with key rings!

I can also stamp these in Dothraki ("Shekh Ma Shieraki Anni" and "Yer Jalan Atthirari Anni") if you prefer, or I can customize them with your own phrase. Please limit custom quotes to no more than 20 characters, including spaces; designs can also be added and count as one character.

Thank you so much for supporting handcrafting artisans!