Natural Edge Media Shelving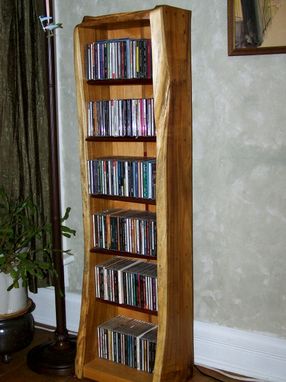 Natural edge details make this media stand unique. The Curly Maple natural edge flow into natural edge sides made from Acacia. The entire unit sits on a 2 inch thick Oak base. Made with reclaimed Acacia, curly Maple, knotty Alder, and Walnut. Unique details include hand shaped shelves made for knotty Alder and with American Walnut nosing. A three section back panel made from Knotty Alder with a Purple Heart spine adds interest.
This is a one of a kind piece.
All the wood is reclaimed material.
This media stand weighs approximately 40 lbs and will require a custom crate for shipping (included in price)
Hand rubbed finish with tung oil for durability.
Dimensions: Will construct almost any size unit. Natural edges and details vary of course because every piece of wood is unique. This piece is approx. 4 1/2 feet by 15" wide and varies between 8-10" in depth.