Natural Linen Block Ms And Os Handwoven Placemats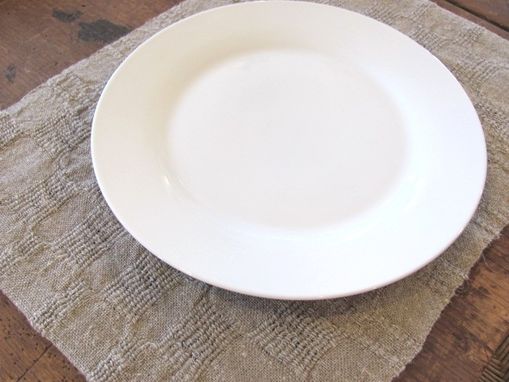 Dress up your Rustic Cabin, Country Farmhouse Decor or Beach Cottage Chic table for special occasions, or casual get-togethers with friends and family. Take time to enjoy the company of others. The right table linens can also set the mood and highlight the wood grain of your table, protecting the surface from scratches, or adding color or texture around your dinnerware. We take the time to prepare special meals and serve them with style, often without regard to the layers between the table and the food.

The patterns I use are classic, yet contemporary in color combinations and in simplicity of style. I prefer to weave with Natural Gray or Ivory linen with a subtle texture. This pattern can also be done in color or in cotton, as well. Please contact me for further information regarding styles, if you are interested, or multiples. This pattern can also me adapted for a Table Runner.

This singular Handwoven Natural Linen Block Ms & Os Texture Weave Placemat is woven approximately 13.5"W x 17"L with an Ms and Os Block Pattern Weave, adding dimension to the surface. The hems are finished by hand. Machine washable and dryable.