Navy Flag Case For 2 Flags And Medals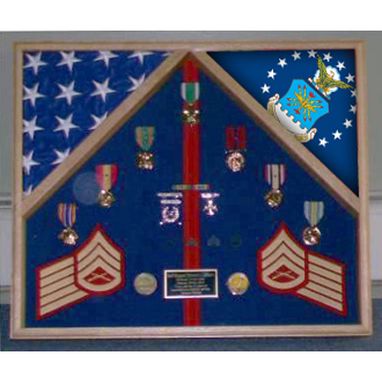 Flags Connections is happy to announce the New Navy 2 flag display case. Our Navy 2 flags case give you an option to present the American flag along side of the Navy flag. Our navy flag display case is hand made by Veterans, and is made out of real wood. Each case get a personal attention, so you will be able to present your flags and medallions. Our navy flag case offer the option to present your medallions and awards along side of the 2 flags. you can chose a defiant back round colors, as well as we can make the case bigger - so it will hold the burial flags as well. This Navy flag case for 2 flags and medals,provides a good amount of space for your memorabilia and 2 flags ( flags are sold seperatly). The Navy case is available in either Oak, Walnut or Cherry and comes with a red, black, blue or green backround. Holds three flags up to 3'x5' each ( we can upgrade the case to hold 5x9.5 flags as well ). Mounting backet is included. Outside dimensions are 22"x 26" x 3" for the 2 Flag and Medal and or flag and document flag display holder.
All of our products are handmade
by expert makers.