Navy Flag Display Case - Navy Flag And Medal Display Case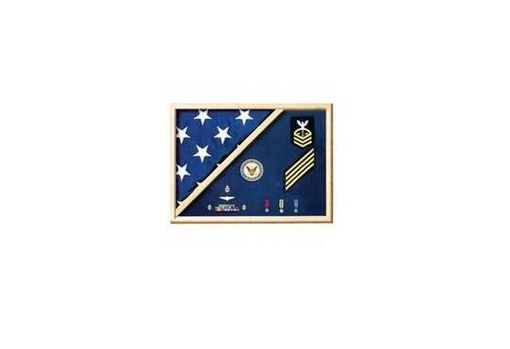 This Navy Flag Display case and Navy Flag and Medal Display Case is made from solid wood, providing an excellent display for rank insignia and medals with a flag case triangle in the upper left corner, which holds a 5ft x 9.5ft flag.


Truly worthy of holding the flag of the U.S. Navy, this display case honors those sailors who have revered the flag's colors for decades. Several naval emblems represented this nautical branch of service, until President Dwight D.

Eisenhower sign an executive order in 1957 designating a single Navy emblem. The design was produced by a board of heraldic experts and historians, and displays a three-masted ship with a "Luce-type" anchor, an American bald eagle, clear skies and peaceful seas.

The use of sky, land and water in the design symbolizes the Navy's ability to support operations in the air and land, as well as a well-deserved reputation for dominance at sea.
All of our products are handmade
by expert makers.