"Nested" Hummingbird Jar For Precious Things!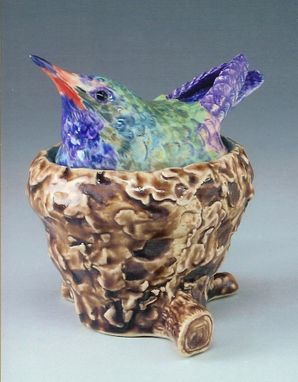 Audubon called the hummingbird a glittering fragment of the rainbow!
While many know of its dazzling plumage, aerial acrobatics and flower kissing as it gathers sweetness, most have never considered the tiny creature as a fierce guardian and fearless defender of its eggs and young. The tiny, two inch diameter nest, always carefully hidden, protrudes inward by her design to form a seal with her body, the eggs nestled within. My porcelain hummingbird containers with jewel-like colors, carvings, and form are treated like treasure and perfect for protecting your beautiful rings. Find one published in "The Best of Pottery", Volume 2, Rockport Publishers.
Dimensions: 5.25" beak to tail by 5" high by 4" deep