New Hope Christian Academy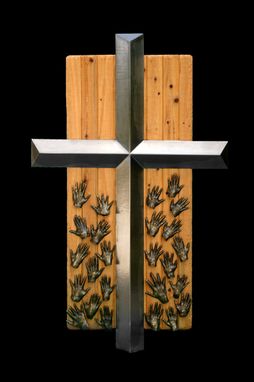 This was a commission for the New Hope Christian Academy in Memphis, TN. They wanted a way for the students to be involved and this was a present from the largest graduating class to the school organized by the parents. I went to the class room and cast the students hands in wax then had them sign their hands. Then they were cast in bronze and attached to the 2"x4" tongue and groove rough cut cypress. The cross is polished steel.
It represents the students upbringing under God and their reaching towards Him as they grow up under God's guidance. The wood represents our world and how God stretches both above and beyond all our understanding.
Dimensions: 5' wide by 8' tall by 8" thick.