New Orleans " Oh When The Saints"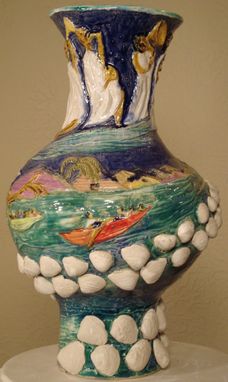 This is done in ceramics, low fire, while "displaced refugee". Red Cross did a fundraiser and gave much money for me to fire and create my ceramics. It was my livley hood, til I moved back to New Orleans where the cost of living was 5xs higher. Now I have to teach highschool and am training the youth to invest in their endangered culture. A vase designed immediately after rescue from Katrina. Dated 2006 when finished. Shells gathered from city, to remind viewer of the cities past ,was indeed covered with water and built up for city dwellers.
Pictures carved in relief on 18"x 12" vase depicting the artists 1st hand recollection of the Great American Deluge. Katrina means purged, yet some are still not ready for the Great Home going. But "Oh when the Saints go marchin in , I want to be in that number"!