No. 510 - Ipad Sheath W/ Buckle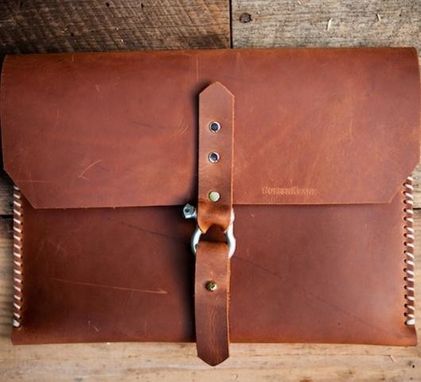 Designed to fit both iPad 1 & 2 with the Smart Cover Attached.

There is nothing else on the market quite like this ColsenKeane brand North Carolina hand-crafted iPad cover. Each one takes a few hours to complete. One solid piece of cow hide is hand-stitched with heavy wax cording to form this one-of-a-kind iPad sheath. Crafted out of latigo, oiled or vegetable-dyed leather, this iPad cover is the thickest you'll find on the market anywhere...7+ oz! Hand-stitched detailing throughout. 9 3/4" X 11." Made in the USA.

We give all our leather a life time warranty and believe this product will not only be a piece that will age with time, but will practically serve longer than your Apple Care will take care of your iPad. Be the envy of the office, coffee shop, campus and iPad owners everywhere!

DOES THE LEATHER SCRATCH THE IPAD? I made one for my iPad the day it arrived (April 3rd) and have used it ever since with ZERO scratches on the front or back of the iPad. This was an initial concern of mine but it has remained scratch free. I also will flip the leather case over and rest the iPad on the leather to keep it from being scratched while using it on a desk or table.