Novelty End Table Or Night Stand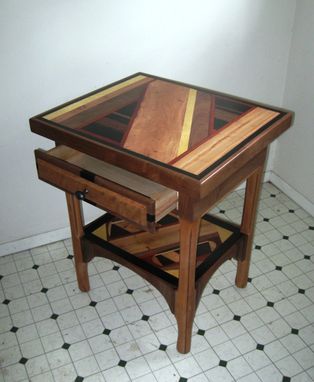 This is a small table I made just for the heck of it; I was thinking night-stand when I made it, but it could serve well as an unusual end table as well. There are a number of exotic woods involved. I used ebony, bloodwood, ekki, yellow-heart, plum, cherry, and walnut. Cherry and walnut were the predominant woods.
I liked the idea of taking a fairly traditional design for a piece of furniture and making it as visually striking as I could. It is now in the living room of a customer's house, and is quite elegant looking despite it's apparent garishness.
Dimensions: It stands about 30 " tall, and the top is approximately 17" x 24".