Octopus And Squid Gyotaku Print - Traditional Japanese Fish Art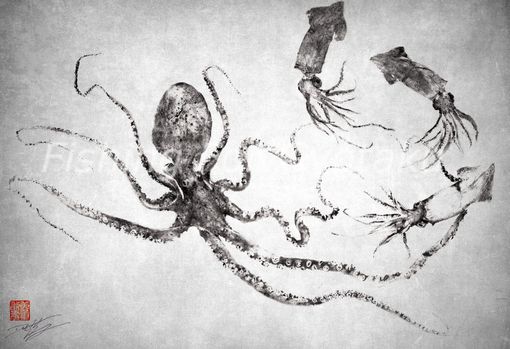 ***(8/14/2015) ALL of our reproduction prints will now be offered as GICLEE prints utilizing high quality, matte ART Paper (similar to watercolor paper) and archival inks!!***

Gyotaku reproduction fish print of an Octopus (long legged octopus) primarily found in Asia, interacting with a small squid. Faithful to the original Japanese style of creating memorable prints for the avid fisherman; simple and monochromatic. this particular reproduction print has been created so that it appears that it has been printed on real rice paper.
Handsome and would be quite stunning behind a glass frame on any wall of ones home or office.

This particular image (long legged octopus) has been reduced in size as the original size is quite large. Print is 13x19 inches with a one inch border.

The red stamp is my name in kanji characters and my English name has been signed next to it.
Photos of the framed sample is simply to show you what it would look like behind glass!
Frame is not included.
Prints will ship via tubes for protection!

Please don't hesitate in contacting me regarding this print or other specimens that you may be looking for!
Made in Mission Viejo, CA
All of our products are handmade
by expert makers.