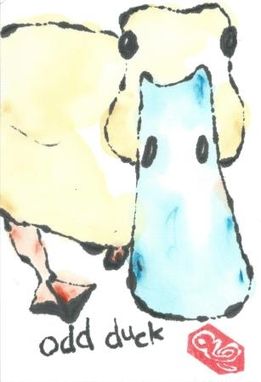 A perfect gift for that odd ball you know, or yourself!

This hand-painted postcard (4 x 6 inches) features a duck with a blue bill and a yellow body, poking her nose at you, with the words "Odd Duck" written below.

This is an original, hand-painted etegami postcard, not a print or reproduction. Etegami is a Japanese folk art that combines hand-painted images, using sumi ink and watercolor (Japanese gansai watercolor) with some thoughtful words. In the tradition of etegami, I painted this card on washi (a soft porous card), outlining the image with black sumi ink, then painting with gansai Japanese watercolor. The stamp (or hanko in Japanese), in red ink, is used as a signature in etegami.

Colors on etegami tend to be more soft in person than in scanned images.