Oil Painting ~ "Balance" - Ballerina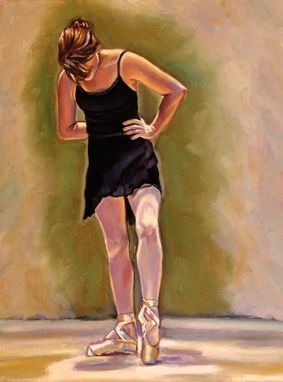 This oil on canvas portrait of "Balance", is available for immediate purchase.

~ This painting measures 11" x 14". (Actual size of the artwork)
~ Signed on the front, title and date are on the back.
~ This painting received an 'honorable mention' in Cape Cod Art Association's Easel Art competition - Summer, 2016
~ Painted on gallery-wrapped canvas, no frame is required.

~~~~~~~~~~~~~~~~~~~~~~~~~~~~~~~~~~~~~~~~~~~~~~~~~~~~~~

More about this painting...

My oil painting of a ballet dancer alone in the studio wearing informal dance attire. I was drawn to her elegant pose that has her beautifully drenched in light, but most of all the at-one-ness and total focus of her physical expression. I have loved dance and the art of dance ever since I was very young and taking ballet lessons, with other hopelessly awkward little girls who had dreams of being on the stage someday...and where three of Degas' ballerina prints hung on the walls of my bedroom.

Kind permission was given for use of the photo reference I used for this painting, by Lynne A. on Pixabay. If you have a photograph that you would like recreated as an oil painting, please don't hesitate to contact me!

~~~~~~~~~~~~~~~~~~~~~~~~~~~~~~~~~~~~~~~~~~~~~~~~~~~~~~

As well as doing original paintings of subjects I love, I also accept commissions for portraits. I can bring your photograph to life in an oil painting, using one of your cherished photographs of a child, a parent, two or four-legged family members...or a special place such as your childhood home.'

Note: If it is not your own photo, I would need the permission of the photographer before I would be able to paint it for you

~ Your custom painting will be hand done in oil paint on canvas, and it will take approximately three weeks for me to complete. I want to mention also, that the quality of your photograph will translate into how fine the result will be when it is finished...so I really want to work with you to help you find the right one. I want you to be completely satisfied and absolutely ecstatic with your finished painting.

~ Prices for commissioned portraits start at $200 for a 9" x 12" (which is for one subject). Other sizes are also available, please inquire for prices.

~ The time to complete a painting will vary, depending on the size and the number or subjects. Most paintings take 2 weeks, with 1 week to arrive after it is shipped.

~ FREE SHIPPING (within the contiguous Unites States). Please inquire for international shipping rates.