Oil Painting ~ "Soaking Up The Sun" - Geranium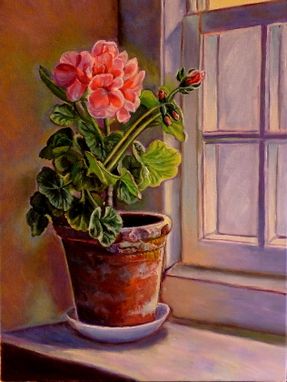 "Soaking Up the Sun in Crofter's Window"
Unframed ~ 11" x 14"
Signed on the front, title and date are on the back

Oil on canvas painting of a potted geranium soaking up the sunshine from an adjacent window. Done in a more impressionist style, I loved all the wonderful light and colors found in the reference photo that I used, taken by Margaret Battye, I found on the Paint My Photo website -- http://pmp-art.com

~~~~~~~~~~~~~~~~~~~~~~~~~~~~~~~~~~~~~~~~~~~~~~~~~~~~~~

If you have a photograph that you would like recreated as an oil painting, please don't hesitate to contact me!

Note: If it is not your own photo, I would need the permission of the photographer before I would be able to paint it for you.

As well as doing paintings of subjectsI love, I also accept commissions for portraits. I can bring your photograph to life in an oil painting, using one of your cherished photographs of a child, a parent, two or four-legged family members...or a special place such as your childhood home.

~ Your custom painting will be hand done in oil paint on canvas, and it will take approximately three weeks for me to complete. I want to mention also, that the quality of your photograph will translate into how fine the result will be when it is finished...so I really want to work with you to help you find the right one. I want you to be completely satisfied and absolutely ecstatic with your finished painting.

~ Prices for commissioned portraits start at $200 for a 9" x 12" (which is for one subject). Other sizes are also available, please inquire for prices.

~ The time to complete a painting will vary, depending on the size and the number or subjects. Most paintings take 2 weeks, with 1 week to arrive after it is shipped.

~ FREE SHIPPING (within the contiguous Unites States). Please inquire for international shipping rates.