Old Growth Pine Slab Table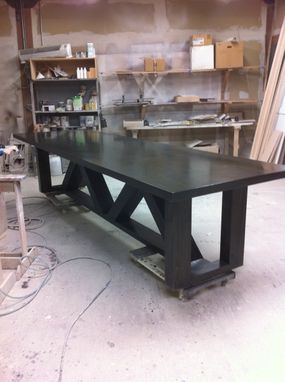 Custom Solid Wood Old Growth Pine Dining Table. The tree was salvaged from a construction site and we hand milled the old growth pine tree into Lumber. Also, we kiln dried in our own custom dehumidifier kiln. The Table is made throughout of Solid Old Growth Pine. The Table is made completely from Wood the same tree which was salvaged from a Highland Park, IL construction site.

The Solid Slabs of Pine and Timbers where designed to offer a Rustic Aethetic along with a Modern Flair.

The Table was designed by Dan Diewald,one of Chicago's finest furniture designers. He has been featured on HGTV and in numerous furniture design competitions. Recently his work was featured on the front cover of the Winter 2011 issue of a National Magazine "Signature Kitchens and Baths".

The table is finished with a high end italian finish which is both Scratch and Water Resistant.
Dimensions: 40" x 140" (Solid Wood Throughout)