Old Time School House (Original Framed Watercolor For Sale)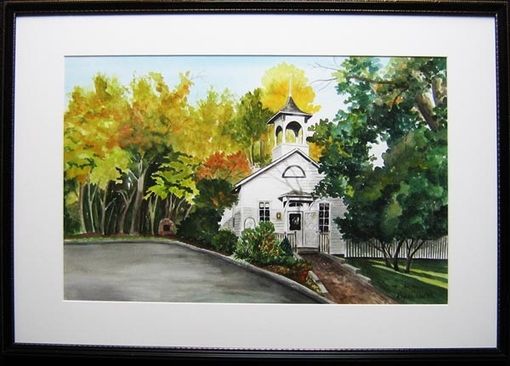 It was around 3:00 one fall afternoon when I photographed this very old school house in Wilton, Ct.. There were really deep shadows and nice vibrant colors in the trees. It has been turned into a wonderfully quaint restaurant now. I used 140lb Arches Watercolor Paper and Winsor & Newton watercolors which have a nice concentration of pigment. If you like looking back in time, this painting takes you there.
It is a nice touch to any office, or room in your home! The image size is 13 1/2" x 21 1/2", w/frame 20" x 28 3/4". This watercolor is matted in acid free white with a 3/4" black with gold trim wooden frame.