Vintage Samsonite Suitcases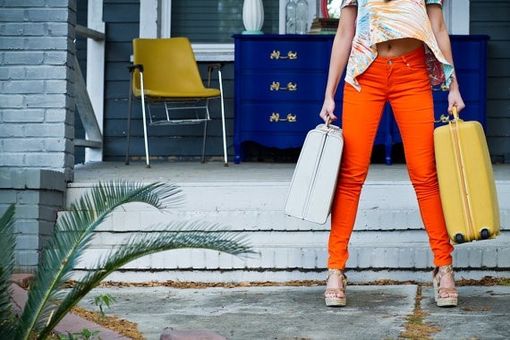 Vintage suitcases from the 1950s, 60s, and 70s. Suitcases pictured are both Samsonite. One is yellow plastic with orange and yellow stripes running around the center where the two halves meet and latch. This suitcase has two wheels, a yellow strap for pulling, but any lining has been removed from the shell. This case is likely from the 70s. The other suitcase shown is a Robin's egg blue case with small basketweave texture on both sides and solid blue smooth binding on each end. The blue case tapers more from top to bottom, and the lining of the case, a rusty color polyester, is in excellent condition.
Dimensions: Yellow case measures 26" wide, 19" high, 7.5" wide. Blue case is 21" wide, 15" high, and 7" wide.