Ooak Wild Woman Spirit Doll©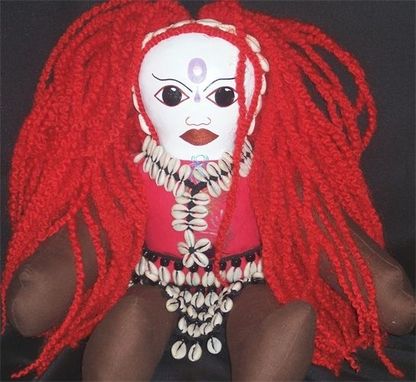 Ooak Spirit Doll, Wild Woman symbolizes feminine power and Spirit. She is charged with the Reiki power & protection symbols.

WILD WOMAN Spirit Doll© – Flaming red hair made with synthetic hair traditionally used by salons for kinky twists. Please see warning regarding synthetic hair.

• Flaming Red Hair - Power (Please note: All synthetic hair is highly flammable. Dolls are not suitable for children. Keep away from all flames, especially open flames.)

• Reiki - Reiki is a frequency of energy that heals on all levels - physical, mental, emotional and spiritual. The source of this energy, also called Universal Life Energy, is the creative force of the universe. Most people call this force God/Goddess/Allah/Jehovah/Spirit etc. It cannot be guided by the mind, therefore it is not limited by the experience or ability of the practitioner. Neither can it be misused as it always creates a healing effect.

• Cowrie Shells – Beneath the flaming red hair is a crown of Cowrie Shells. Recognized as an ancient symbol for creation, birth and rebirth. According to African legend, if you are attracted to the cowrie shells you could be family to an ocean spirit of wealth and earth. It also represents Goddess protection which is very powerful and connected with the strength of the ocean. Throughout Africa, South and North America, the cowries symbolized the power of destiny and prosperity. Cowrie shells are used in manifestation rituals. Cowrie shells were used by many African and Asian cultures as currency.

• Ritual Face Paint – She is wearing the ritual white face paint to symbolize the power every woman possesses when she is her natural wild self. A white clay or powder is used in many African and other cultures for powerful ritual work. Face is all hand painted.

• Shells as clothing – The wild woman wears the powerful cowrie shell as her choice of clothing. She symbolizes the birth and rebirth of the feminine spirit in her natural state. The cowrie shell is shaped like the female genitalia another very powerful attribute of the natural power every woman is born with.

Wild woman can teach you through her natural beauty to remember your wild and natural self, to celebrate you in every way. To be comfortable with your power as you dance, dance; dance the power of your cowrie shell root chakra. Wild Woman is powered with the Reiki Symbols for Power and Protection.
Size – 24"
All of our products are handmade
by expert makers.