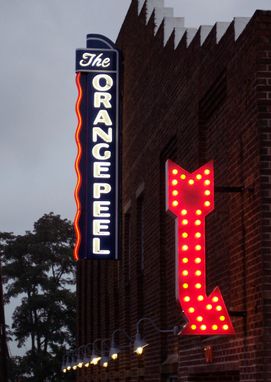 The Orange Peel is an internationally loved music venue. The neon sign was engineered, fabricated, and installed by me.
It measures 15 feet tall by 3 feet. Built of aluminum, painted with acrylic polyurethane, double sided, and bull nosed, the Orange Peel neon sign is a well known local landmark. The red lighted arrow is 6 feet tall and is double sided. These signs have allured performers and patrons for more than a decade..
Dimensions: 15 feet tall by 3 feet projecting..
Arrow is 6 feet tall..