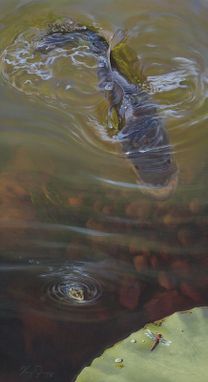 Think piece that I was not commissioned on. This original was painted with Acrylic.
The water surface trembles with tension; the lily pad shifts suddenly. This age old game continues like it has for a million years. It's an ongoing cycle that defines its characters by the parts they play. It started as a simple little fishing excursion down to the pond but ended up much more. After watching this intrepid frog navigate the water close to the shore, I pondered…what part of the cycle am I or are you? What part do we play in this chain of events? (Organic Cycle)
Reproduction and Original are for sale.
Dimensions: Print size (15"H x 8"W) Not framed
Oringinal size ( 23"H x 13"W) Not Framed
For framing options please inquire.