"Organic, Natural, Forged Metal Tree Sculpture"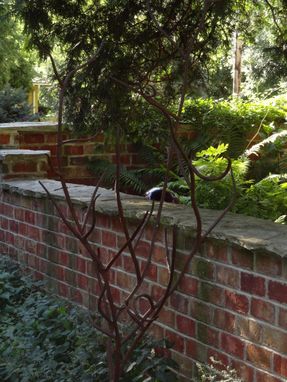 These trees, made from scrap metal, are very organic/natural looking, and are simply beautiful works of art to be enjoyed.
I make these trees by hammering bars into rough textured, tapered branches, and bend them into unique shapes. Once
Ive compiled a group of branches, of different sizes, I put them together like a puzzle, to make a one of a kind tree. The base of the tree is determined by where the sculpture is going though there are bases that work in grass and hard floor, light boxes are also great bases. This particular tree has three spikes that stake it to the ground. These trees come in many shapes and sizes and can be adapted to be candelabras, trellises, or bottle trees,a prices do vary considerably.