Orgonite Crystal Necklaces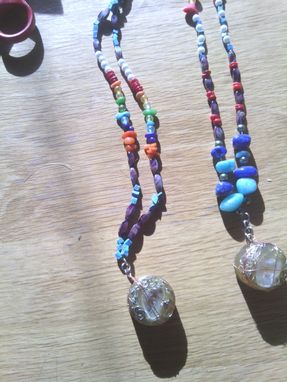 These necklaces are made from tumbled crystals and home made orgonite. It will ride anyone of negative energies which accompany the feelings of; fear, anger, stress, hate, pride, greed, blame, bitterness, hurt, judgment, misery, sadness, hopelessness, unhappiness, insecurity, lack of faith, lack of self-love, self-destruction, jealousy, competitiveness, control, frustration, selfishness, closeness, guilt, shame, doubt,s uncertainty, negativity and the list is long..

And turns it into; love, joy, faith, trust, inner strength, confidence, belief,
happiness, caring, sharing, forgiveness, openness, passion, freedom, harmony, honesty, beauty, compassion, self-love, self-appreciation, respect, acceptance, peace, balance between giving and receiving, understanding, positivity and again the list is long...

There is even scientific evidence proving the never ending power of orgonite. I also make any other kinds of orgonite. Like tower busters, and domes, pocket pieces, wands, and so SO much more.