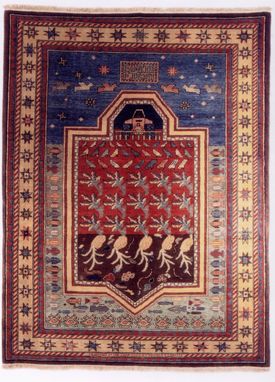 Designed for a solo exhibit at the Newport Art Museum, Earth First is a rug I drew. The drawing was sent to a middle man who negotiated its weaving in Turkey. The carpet was then knotted by hand with naturally dyed wool yarns.

Many years of experience in the antique oriental rug market provides a the underlying understanding of the design and weaving process and resulting designs.

My rugs are meant to be used decoratively both on the floor or hung on the wall just as any oriental carpet might be.
Dimensions: Beautiful carpets can be designed in any area rug size.

Earth First is 4 X 6'

Prices vary according to size and design, and are generally $45.00 per square inch.