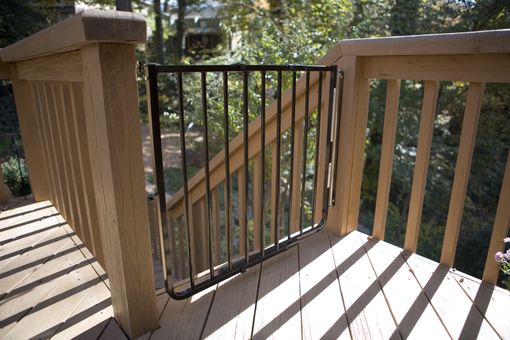 The outdoor stairs baby gate is specifically designed to be installed as a stairs baby gate for the top of stairs for porches, decks, balconies or anywhere you made need a baby safety gate outdoors. Powder coated aluminum and stainless steel hardware resist rust and make this gate perfect for outdoor use.
This safety baby gate can be set to swing in only one direction, away from the stairway. Most child safety gates swing in both directions. At the top of stairs, this can be a very serious hazard. The operator is forced to back up on the stairs, possible while carrying a child. This gate is designed to prevent that, with a bracket which stops the gate from opening over the stairway. The gate can be mounted on an angle of up to 30 degrees and extensions are available to make this an extra wide safety gate, up to 64" to accommodate most any wide opening stairway. Keep your stairs secure with this stair baby gate designed with a bracket to open in ONLY one direction - away from danger.
The light weight aluminum construction, and powder coat finish resist rust, allowing you to use this as an outdoor stairs baby gate to protect you deck or porch stairway . The powder-coated finish provides a long lasting, easy-to-clean surface and is available in White and Black. This stairs baby gate for outdoor use can be used indoors as well and will complement any home indoors or out doors.
Dimensions: Gate Dimensions: Gate width is adjustable 27" to 42 ½"Height 29 ½"Bar Spacing 2 ½"10 ½ extension (Model BX1) is available for openings 42 ¼" to 53"21 ¾ extension (Model BX2) is available for openings 42 ½" to 64"