Outdoor Organic With Bird 21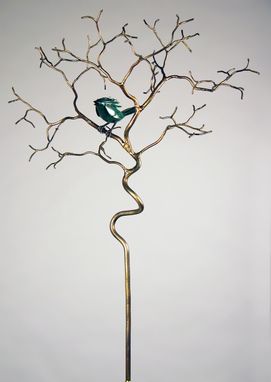 An impressionistic bird fabricated in silicon bronze with a blue-green patina perches atop a free-formed, brass-brushed steel branch. Designed in two parts, the full-length sculpture can be sunk ten to twelve inches into your garden, and, if placed near a bird feeder or bath, it may soon attract visiting birds. Both the long or shorter versions can also be used indoors as a decorative accent piece. The bird is approximately 7 x 5 x 2 inches.
Dimensions: 74" tall x 24" wide x 12 " deep apprx.